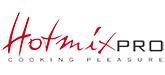 HotmixPRO is an ingenious range of commerical thermal mixers combining innovation, reliability and performance to withstand the pressure of a professional cooking environment.
Equipped with a range of smart features, the HotmixPRO can perform all the hard work and complex cooking processes required in a busy commercial kitchen. It cuts, blends, mixes, kneads, heats and more.
HotmixPRO will lighten your workload and free up your time, enabling more advernturousness, creativity and productivity in your repertoire.
Fore more information, download the catalog(s) below.
Hover over the link, do a right click, and choose "Save Link As" or "Save Target As"

Hot Mix Pro (359 KB)

Accessories (281 KB)